Scientific Background
The global importance of the infectious disease melioidosis is being increasingly recognized. The disease is endemic in many subtropical and tropical parts of the world. The causative soil bacterium B. pseudomallei is classified as a bioterrorism agent and is naturally resistant against a variety of antibiotics. Although described more than a century ago, the worldwide environmental distribution of B. pseudomallei and the disease melioidosis are still unknown. This is also due to the fact that the clinical manifestations of melioidosis are extremely variable and the necessary microbiological analytics are not available in many potential endemic areas. The environmental factors determining the presence of B. pseudomallei are still largely unknown.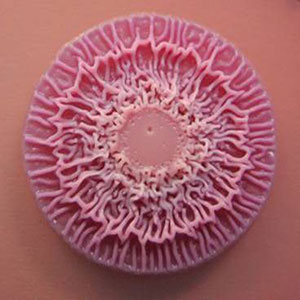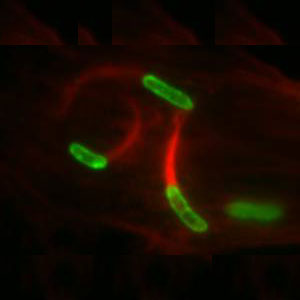 Burkholderia pseudomallei culture (left), intracellular actin tail formation (red) of B. pseudomallei (green) (right) -
© FLI for Medical Microbiology Greifswald
Project and Objectives
The structural measures of this project primarily aim
to create a risk map for the population to acquire infection by determining the environmental distribution of virulent B. pseudomallei in Vietnam,
to identify factors associated with the presence of B. pseudomallei in the environment,
to determine the incidence and prevalence of melioidosis in humans and animals, and
to develop strategies for early treatment and preventive measures.
Aspects of Research Structure
An important component of this research network will be a Central Melioidosis Register for the collection and analysis of clinical data from cases of melioidosis. A National B. pseudomallei Reference Laboratory will perform typing of bacterial strains using state-of-the-art molecular techniques. Environmental studies will try to link soil characteristics with bacterial population structures and functions also using metagenomic and metaproteomic approaches. In the long term, the establishment of this joint research structure is intended to serve as a platform for the development and validation of new diagnostic tools and may also help to initiate new research projects in the field of infection biology and infection medicine.
Funded in the context of the BMBF funding programme to establish joint research structures of German universities with partners in APRA.
More information on APRA
.