A broad information base is the foundation of targeted internationalisation. The aim of the International Bureau is to support the BMBF in its international positioning and strategic planning by detecting trends in research and innovation. The BMBF relies on existing national, European and international data collection processes and intensifies connections where appropriate and useful. Monitoring extends from the internationalisation of the German research landscape to developments abroad, and cooperation opportunities with key partner countries.
Tools
The BMBF uses its portal 'Kooperation international' to process the collected information. This is both a directory and a communication platform for international education and research cooperation and as such an important tool for implementing the internationalisation strategy. Kooperation international has an average of 8,000 visitors a month accessing 150,000 individual sites.
The 'inside' newsletter places its focus on the international cooperation of Germany. It also contains information on funding opportunities.
Another tool is the 'ITB infoservice' newsletter. It reports on current strategic developments in research, education, technology and innovation policy in leading industrialised countries and emerging economies. Approximately 1,000 readers subscribe to this monthly newsletter.
Since January 2010, priority issues of the ITB infoservice have been published twice a year, each with a focus on a specific region or current topic. The topics of the last special editions were: 'Foresight and Roadmapping' (issue 13), 'Science and Innovation in Africa: International Funding and Cooperation' (issue 12), 'Strategies for International Cooperation in Research and Innovation' (issue 11) and 'Innovation in China' (issue 10).
In May 2019, 'Kooperation international' featured a first report on the Monitoring of the Asian Pacific Research Area (APRA), with the focus set on China. The report investigates how cooperation within APRA and cooperation with selected countries has developed. The range of applied indicators covers bibliometrics, patents and researchers' mobility. In addition, qualitative information derived from national strategy papers is included in the analysis. The report was drafted on behalf of the BMBF by a consortium that includes the Fraunhofer Institute of Systems and Innovation Research, the German Institute of Global and Area Studies (GIGA) and the German Academic Exchange Office (DAAD). A follow-up report is planned for 2020.
The International Bureau also processes and analyses statistical and bibliometric data for selected countries (sample diagram):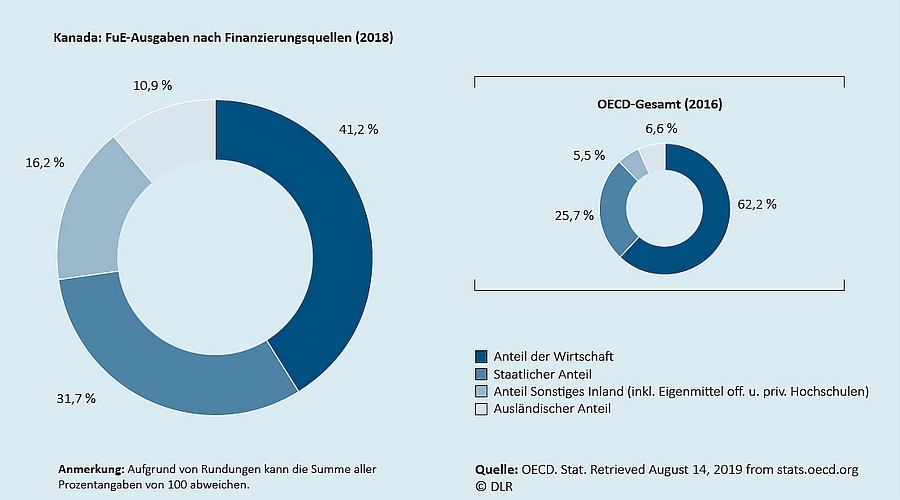 Gross Domestic Expenditure on Research and Development by Source of Funds
Since 2016, the International Bureau has coordinated and supported a process which identifies indicators covering the internationalisation of education, science and research, based on a systematic review. Updated with recent data, these indicators are employed in selected BMBF publications.
One example is the 'Federal Government Report on International Cooperation in Education, Science and Research 2017-2018' published in November 2019.