Scientific Background
The cooperation partners have the goal to research the usage and design of selected types of information systems. Due to the increasing connectedness of individuals, national borders are blurred; the focus shifts to global problems that require international approaches to research. The idea behind the three project topics from the area of "Software and Service Ecosystems" is that private and public software services are increasingly connected with human services in order to generate increased value.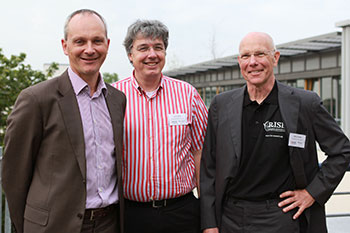 Prof. Michael Rosemann (QUT), Prof. Armin Heinzl and Prof. Martin Schader (both University of Mannheim) at the RISE Workshop in Mannheim - © rise-research.org
Project and Objectives
In the first phase of the project, research was focused on the following three areas:
"Digital Complementary Assests" deals with the characteristics of big providers of digital services (e.g., Google, Facebook, Groupon) and how they interact with each other.
The area of "Crowdsourcing and Open Innovation" researches the harnessing of the potential of big groups of people over the Internet in order to solve simple or complex tasks.
"Software-as-a-Service" is a new business and distribution model in the software industry which has a strong influence on the development process and the properties of software.
In the next years, the "Connected Citizen" project will form the basis for research on the economic, social, and strategic implications of the increasing connectedness of citizens as well as of this connectedness on businesses and national economies. One focus will be on the questions how companies can use social networks to improve existing business processes and develop new service innovations.
Aspects of Research Structure
RISE is constructed as a lean virtual institute that allows the international partners to fully focus on the primary goals of the cooperation, highquality publications and the procurement of third-party funds. After the conclusion of the BMBF funding in 2014, the intention is to integrate RISE into the Mannheim Institute for Enterprise Systems (InES). InES is a research institute that is funded by the Ministry of Science, Research, and Art (MWK) of Baden-Wurttemberg, the University of Mannheim, as well as companies.
Funded in the context of the BMBF funding programme to establish joint research structures of German universities with partners in APRA.
More information on APRA
.