Project objective
The treatment of various hair disorders has become a central focus of good dermatologic patient care as it affects men and women all over the world. For many inflammatory-based scalp diseases, glucocorticoids are an essential part of treatment, even though they are known to cause systemic as well as local adverse effects when applied topically. This results in skin atrophy, a thinning of the skin tissue. Especially with inflammatory disorders of hair follicles – which contain the hair root – it is difficult to directly target the drug substance in high dosage.
Therefore, the project aimed at developing a drug that accumulates selectively in the hair follicle and that releases only limited quantities of the drug to the skin. Nanocarriers – extremely small particles in the size range of 50 up to several 100 nanometers – serve as "taxies". They transport the drug selectively to its target. Clobetasol propionate was used as the drug. It was analyzed how the active substance accumulates in the hair follicle and how it is released to the skin tissue.
Use of results
Three types of polymeric nanocarriers (nanospheres, nanocapsules, lipid-core nanocapsules) were prepared and tested comparatively. The particles produced have a size of about 200 nanometers. In-vitro tissue tests have revealed that follicular uptake is highest for nanocapsules. Experiments revealed equivalent reduced transdermal permeability for all nanocarriers in comparison to application of the free drug.
Funding announcement
International cooperation in education and research with Brazil
Partner region / country
Brazil
Life span
1 May 2012 – 30 June 2016
Partner institutions
Saarland University, Biopharmaceutics and Pharmaceutical Technology
Universidade Federal do Rio Grande do Sul
Combining these results, nanocapsules appear to be a good candidate to maximize follicular targeting and minimize drug penetration into the interfollicular epidermis. But it depends on the type of nanoparticle. Thus, it seems possible to minimize the adverse effects of glucocorticoids when applying for follicle diseases. These results have to be verified by human clinical trials.
Added value of international cooperation
The experience of the Brazilian partner in producing nanocarriers resulted in the rapid development of suitable particles for the active substance of clobetasol propionate. The in-vitro tests were carried out in Germany where necessary procedures are established and routinely applied.
Outstanding results and achievements of the project
Nanocapsules appear to be a good candidate to maximize follicular targeting of glucocorticoids while minimizing the absorption via the skin. Thus, it appears possible to minimize the adverse effects of the active substance on the skin and to realize therapies that are better bearable for the patient.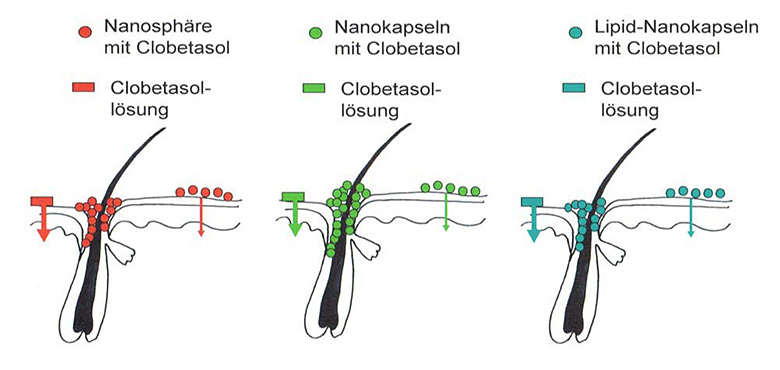 Storage of various nanocarriers in the hair follicle and its influence on the drug intake into the skin.
© U. Schäfer
DLR Project Management Agency
European and international Cooperation
Matthias Frattini
phone: +49 228 3821-1434