Localisation, Quantification, and Utilisation of Water Hyacinth in the Volta River
Project management
© Dr.-Ing. Richard Arthur
Dr.-Ing. Richard Arthur,
Koforidua Technical University, Koforidua, Ghana
in cooperation with
© Prof. Dr. Dieter Bryniok
Prof. Dr. Dieter Bryniok,
Hamm Lippstadt University of Applied Sciences
Project description
Water hyacinth is a highly problematic invasive aquatic plant native to the Amazon basin that causes considerable environmental damage in Africa and Asia.
The German-Ghanaian project WHy@Volta investigated whether water hyacinths on the Volta River in Ghana can be used as an energy resource and substrate for the production of biogas. In the future, this should help combatting the invasion of water hyacinths on waterways, supply settlements along the river with energy and improve the living conditions of their inhabitants.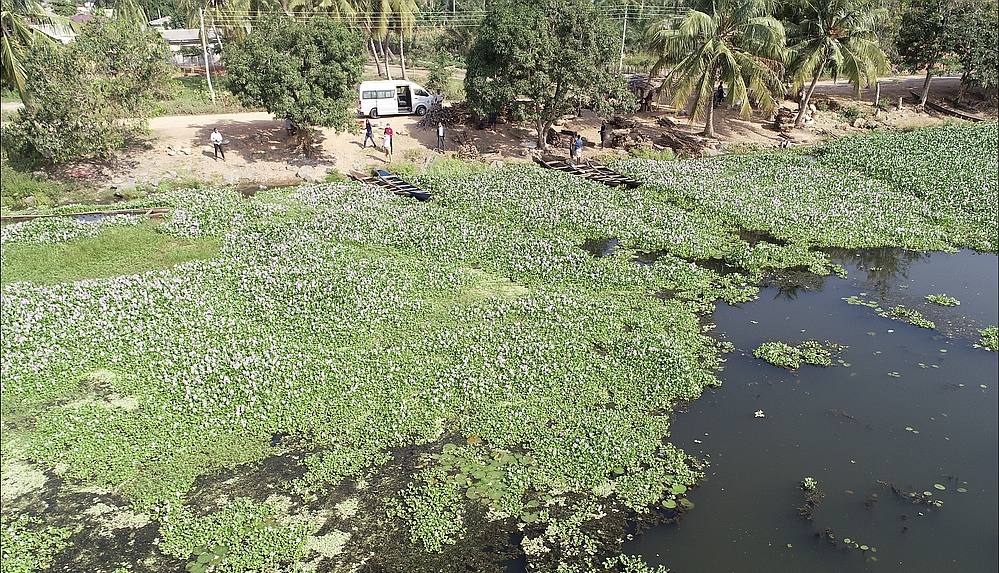 Water hyacinths © Dr.-Ing. Richard Arthur
To this end, the project localised water hyacinth biomass on the water surface using satellite remote sensing data and drone flights, and experimentally determined the specific biogas and methane production potential from water hyacinths in laboratory tests. Local communities were actively involved in the research process.
This research project proved that control of water hyacinths and the damage they cause can be linked to biogas energy supply: Biogas with an average of 190 m3 of methane can be produced from one ton of water hyacinth. This way it is possible to cover not only the electricity and heating needs of the surrounding communities of the Volta River, but also beyond. Following this project, the biogas production will be demonstrated and an overall economic concept will be developed, taking into account the economic losses incurred so far for fishing, hydropower generation and navigation. (Potential) industrial partners have already been identified in both Ghana and Germany.
Contact
Prof. Dr. Dieter Bryniok
Hamm Lippstadt University of Applied Sciences
Germany
dieter@bryniok.de