Innovative Valorisation of Olive Mill Effluents
Project management
Prof. Dr. Sami Sayadi, Center of Biotechnology of Sfax, Sfax, Tunisia
in cooperation with
Prof. Dr.-Ing. Sven-Uwe Geißen, Technical University Berlin
Projektbeschreibung
Olive mill effluents © Sophie Jeremias
Tunisia is one of the world's largest olive oil producers. Olive oil production involves the generation of large quantities of olive mill effluent and solid waste such as leaves and pomace. Due to the high load of organic substances, this wastewater has a high pollutant potential, causing in particular a strong soil but also groundwater contamination.
Within the framework of the German-Tunisian InnoVa project, an innovative process combination for the treatment of olive mill wastewater was further developed for industrial application in order to reduce the environmental threat to soil, water and air, and also to valorise valuable resources.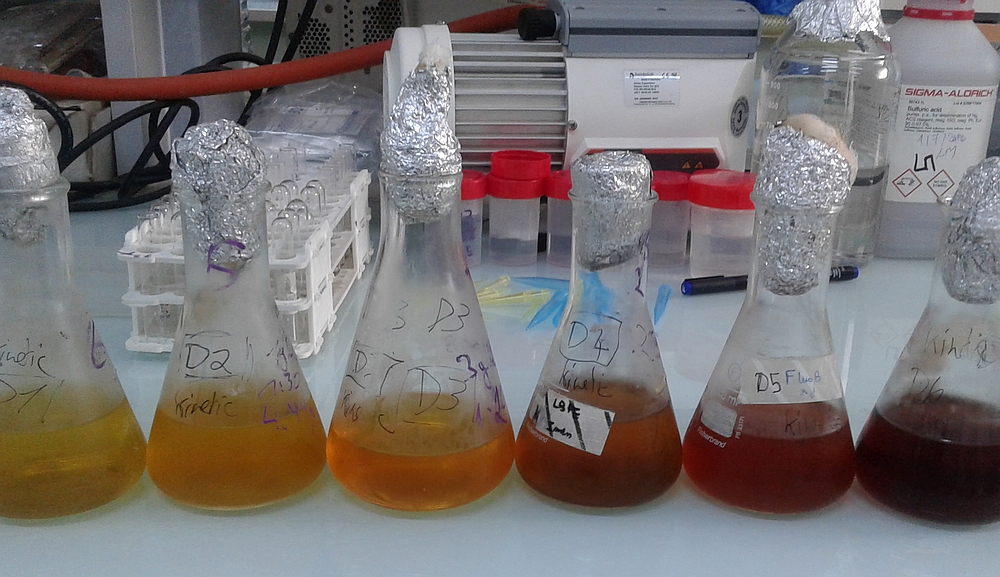 Samples at the laboratory © Prof. Dr. Sami Sayadi
In addition to optimising the treatment steps at laboratory scale, a demonstration plant was constructed and operated in Tunisia. The selective recovery of polyphenols (antioxidants) and the production of fertilizers for agriculture ensures economic feasibility and generates local added value.
The project prepared the creation of a spin-off for the production of antioxidants that can be used in the cosmetic and food industries.
Contact
Prof. Dr. Sami Sayadi
Center of Biotechnology of Sfax, Sfax
Tunisia
ssayadi@qu.edu.qa