Innovative cereal drying and handling technology to combat aflatoxin contamination in Kenya's maize supplies
Project management
Dr. Isaiah Etemo Muchilwa, Moi University, Eldoret, Kenya
in cooperation with
Prof. Dr. Oliver Hensel, University of Kassel
Projekct description
Maize is the most important staple cereal in Kenya and many other African countries. However, improper grain storage leads to highly toxic and carcinogenic compounds associated with fungal colonisation of foods, which lead to high post-harvest losses, especially in East Africa.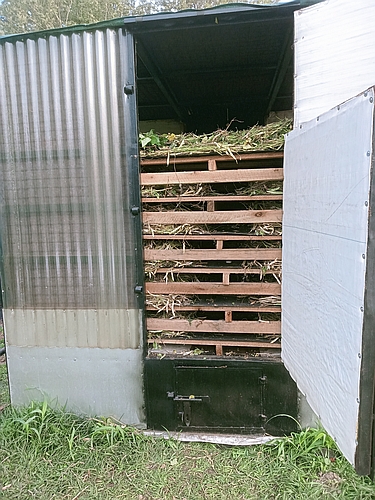 Innovative cereal drying © Dr. Isaiah Etemo Muchilwa
In the framework of the German-Kenyan cooperation project InnoStore, innovative drying and storage techniques for reducing aflatoxin contamination in African post-harvest processes were investigated and adapted to local conditions so that they can be introduced to the local market.
The developed prototypes have different sizes for different capacities ranging from 4 to 150 bags of maize (0.3 to 12 tons). They can successfully dry maize with an initial moisture content of up to 30 % within 5 days of continuous operation. They offer a simple, energy-efficient and cost-effective technology to mitigate the toxic metabolites of moulds and can be easily produced in large quantities.
The project brought together stakeholders in the maize production chain, engineers and scientists in a knowledge-based process to achieve successful technology transfer and adoption. As a result, a Kenyan start-up company (Maridadi Farm Enterprises) was established to produce and market this innovative product to potential users. The product/technology has the potential to be applied in other regions as well.
Contact
Dr. Isaiah Etemo Muchilwa
Moi University, Eldoret, Kenia
imuchilwa@yahoo.co.uk