The goal of the German-Turkish project Cedrus, that came to an end at the end of January 2016 after a period of three years, was to research the habitat requirements of the Lebanon cedar (Cedrus libani). These trees are increasingly attracting attention in the forestry sector due to the high quality of their timber and their resistance to winter cold and summer drought. Hardly any research into their growth dynamics, water balance and the ecological conditions in their habitat has been performed to date. In Turkey too, this indigenous species is becoming increasingly significant in the reforestation of degraded mountainous areas. During this project, new insights were gained into the growth potential of the Lebanon cedar and the progress of climate change. These will facilitate evaluations for forestation projects and of the marketing potential of this tree species.
Resistant to drought
The ecologically valuable Lebanon cedar, which is also of commercial interest to the forestry industry, is to supply new, realisable insights into tree growth and stress tolerance in their natural habitats in Turkey and Europe. Both geographical regions will experience significant climate change over the next few decades. In Europe, the cedar may turn out to be suitable for foresting many areas that have chalky, stony soil and are subject to drought.
Cutting forestation costs
The newly-acquired knowledge relating to the Lebanon cedar made it possible to determine the optimum climatic and ecological growth conditions for this species together with its preferred habitat and growth requirements. This facilitated an efficient selection of new regions in which the cedar could be planted successfully. This means that costs could be cut when foresting the cedar's natural habitat in Turkey. Moreover, the results obtained have provided new knowledge of the cedar's potential with regard to the climate change occurring in central Europe.
Foundation work for the forestry industry
Joint scientific publications in international journals are to present the knowledge acquired to date along with the new insights acquired into the growth conditions preferred by C. libani. The results of the pilot study are summarised in a report. This is the basis for the creation of an extended working group that is developing a project proposal for a forest ecological and economic evaluation of tree species in the eastern Mediterranean region with a view to determining their forestation potential throughout Europe.
Mature cedar cones for seed extraction © Akkin Semerci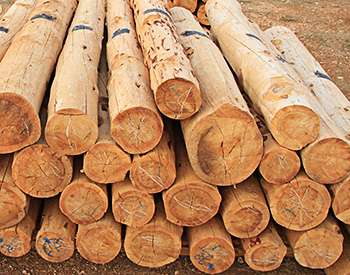 Collection of cedar wood in Elmali © Akkin Semerci
Contact
Dr. Nesat Erkan
Southwest Anatolian Forest Research Institute, Antalya
Tel.: +90 242 3450442