State Secretary Rachel met the new Ukrainian Minister of Education and Science, Hanna Novosad, in Kiev. The meeting focused on the implementation of German-Ukrainian Centres of Excellence, which are to be financed through a funding initiative by the Federal Ministry of Education and Research (BMBF) starting in 2020. The DLR Project Management Agency (DLR-PT) was involved in the extensive preparations for the trip as well as in the design of the initiative for Centres of Excellence, and accompanied the delegation to Kiev.
Thomas Rachel: 'With the Centres of Excellence, we aim to support Ukraine in establishing outstanding scientific institutions and thus in sustainably expanding bilateral cooperation. Together with a German research institution, excellent scientists who are currently working outside Ukraine will have the opportunity to set up and lead a Centre of Excellence in their home country. The BMBF intends to provide 5.5 million euros for the projects, which will be funded in two phases over the next five years. We are already supporting two pilot projects in the fields of materials research and agricultural economics.'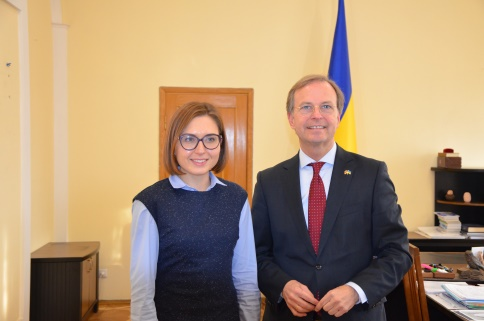 Minister Hanna Novosad and State Secretary Thomas Rachel © Erich Bistriker
The close relationship between Germany and Ukraine gains additional importance due to the country's prominent role in the European Union Neighborhood Policy. In particular, the intensified participation of Ukraine in the European Research Area (ERA) also opens new perspectives for Germany in expanding its research cooperation with Ukraine. The BMBF programme 'Bridge to ERA', provides support to German scientists who aplply for funding by the European Commission to set up joint research projects with Ukrainian colleagues.
In addition, a new BMBF-funded programme of the German Academic Exchange Service (DAAD) contributes to the development of institutional partnerships and sustainable structures. With this programme, the DAAD supports projects of German universities that help their Ukrainian partner universities in their internationalisation. The initiative has been met with a very positive response in both the German and Ukrainian higher education institutions.