With the theme "Creating our Common Future through Science, Technology and Innovation" OECD Science Ministers met in South Korea on 20 and 21 October. Germany discussed its current High-Tech Strategy and reported on the G7 Science Minister Meeting in order to foster the dialogue with international organisations such as the OECD.
Science and Technology Ministers met in Daejeon on 20 and 21 October, and agreed to a broad forward-looking agenda for science and technology in a joint declaration that reflects the need to update policy and institutions in this area.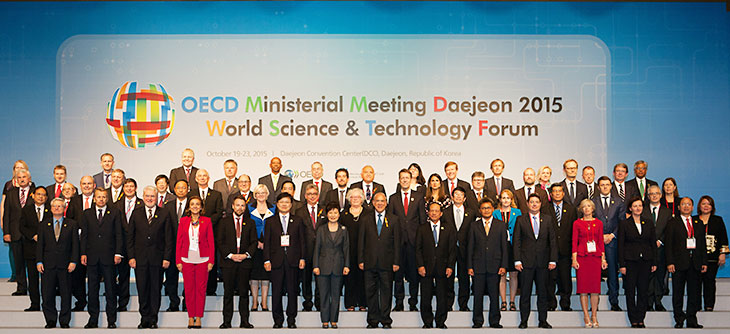 Germany has geared its research and innovation policy to strive for sustainable economic growth, create jobs and promote well-being. State Secretary Dr. Georg Schütte elaborated how the Federal Government's High-Tech Strategy is used to pursue this approach and described how it fits in with the OECD Innovation Strategy. Also, the G7 Science Ministers had postulated in Berlin to exploit synergies with operating international fora such as the OECD to reach continuing progress of their decisions.
The meeting in Daejeon occurred at a critical juncture for policy making in this area, which is challenged by the rapid digitalisation of science and technology, as well as a growing need for international collaboration to address common challenges like climate change and global health.
Ministers requested the OECD to strengthen its advice on science and technology policies, notably on:
open science - digital technologies are revolutionising the way scientists work, and ensuring access to publicly funded scientific data and publications is critical;
impact assessment - better measures and indicators of science and technology performance, and notably of outcomes are needed;
mapping research activities and identifying gaps - the coherence of national research agendas should be improved to address shared research challenges, avoid duplication, and identify possible gaps in global research efforts;
international co-operation - increased sharing of good policy practices across countries, including with developing countries needs to be facilitated.