The aim of the laboratory is to give a permanent structure to the decade-long tradition of a German-Russian cooperation in the field of aquatic ecology. The expertise of the cooperating institutions will be used to train young scientists and research the fields of brackish water ecology and chaos dynamics in communities of plankton.
Research priorities
The main priorities of USElab focus on research into the biodiversity and dynamics of communities as well as on physiological, genetic and molecular biological investigations. These experiments are performed under controlled environmental conditions.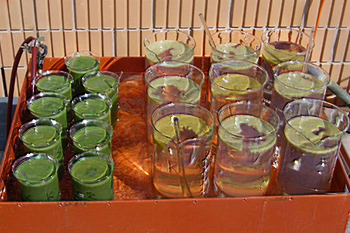 Distance-learning programme for young scientists
A distance-learning programme for young scientists was developed in order to process and identify plankton samples from brackish water habitats in the transitional sections of rivers and seas. The expertise of the Russian partners was used to jointly develop the distance-learning programme. Tools developed during the project for the convenient handling of memory-intensive image files form the foundations of the web-based training with virtual plankton samples. The module will be integrated into the regular learning programme at Rostock University from the 2015/2016 winter term.
Russian and German scientists benefit from the cooperation
Whereas the distance-learning programme mainly benefits students in Germany and Russia, the cooperation also established contacts with further institutions in the two countries: For instance, the Russian partners gave German scientists access to rare species samples. During trips to Germany, young Russian scientists were introduced to research techniques, which were subsequently established in the Russian partner institutions.
Partner institutions
University of Rostock, Biosciences Institute
Leibniz Institute for Baltic Sea Research (IOW)
Russian Academy of Sciences, Institute for Cytology and Institute for Zoology
Find out more on the USElab website.
Contact

Universität Rostock | Aquatische Ökologie
Institut für Biowissenschaften
Prof. Hendrik Schubert
Tel. +49 381 498 6070