What innovations will shape the world in 2030? How can they be developed efficiently and practically? And most importantly: Which technologies are already promising pioneering developments? These, and other topics will be addressed at the first "Moscow International Forum for Innovative Development – Open Innovations" at the "Open Innovations Expo" to be held from 31 October to 3 November 2012 in Moscow, previously "RUSNANOTECH".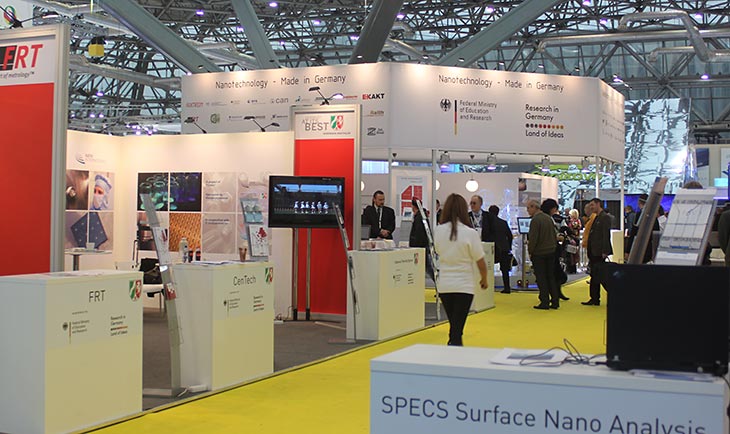 The four campaign networks, with their focal points optical technologies, nanotechnology and environmental technology, were almost predestined for the newly developed "Open Innovations Expo". This event is therefore the perfect opportunity to showcase the pooled expertise of the national campaign for Russia networks and the newest research ideas at the BMBF stand, and to expand networking activities.
In addition to their attendance at the "Open Innovations Expo" on 31 October 2012, the four R&D networks NanoBRIDGE – Bridging of German and Russian Nanotechnology Excellence, ENNA – Energy Efficiency and Sustainability of Buildings), SOYUZ Bioenergy - "SOYUZ Marketing Russia" and Light4LIFE – Marketing for Germany, Center of Innovation in Optical Technologies, will deliver brief presentations and report on the networks they have already established and their existing experiences in innovation processes. Additional overviews and talks by SOYUZ Bioenergy on the topic of biofuels from bioalcohol and by Light4LIFE on the topic of clinical biophotonics will follow on 2 and 3 November at the BMBF stand.
In addition, the innovation networks will be holding NanoBRIDGE and ENNA specialist workshops: the ENNA workshop on 31 October will focus on solar heating and cooling with "Renewable energy in energy-efficient urban areas" and on innovative energy concepts in buildings.
On 1 November, the NanoBRIDGE workshop will look at the topic of "Applied nanotechnology – the key to success in German-Russian cooperation", with the main focus on joint nanotechnology projects and the applicability of micro and nanoporous membranes.
Contact: Ilona Roberts, Promoting Innovation in Germany, International Bureau of the Federal Ministry of Education and Research at DLR, ilona.roberts@dlr.de
Further information on the national campaign for Russia can be found at: Research in Germany.